Funny Car Crash Video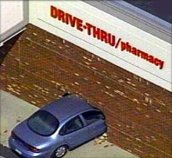 Car crashes are rarely funny, but as no-one was injured in this crash we've included it in our funny videos collection. It's not the actual crash that is so funny, its what happens to one of the wheels after the crash. So keep an eye on what happens to the wheel and work out what the car owner would have said to his or her insurance company. Then imagine what the insurance company would have written back and then guess how much each would spend in legal fees to get it sorted. (Hopefully the car owner was given a copy of this video!) We've many other funny videos on this site so why not check them out?
---

In this funny shooting gun clip watch as the marksman gets an unexpected surprise! Yep, those .577 Tyrannosaur rifles are very powerful and should maybe come with a warning about how dangerous they can be (especially to anyone being shot at.)
---
---

If you decide to jump across a swimming pool you really need to make sure you can reach the other side safely!
---
---