Free Magic Tricks
There are many types of magic trick with, perhaps the very best, relying on slight of hand to fool the viewer. Such tricks are hard to replicate online, however there are still some classic magic tricks that have evolved into an online version and we showcase some of the very best here. After you've explored these magic tricks take time to play with our magic camera (below.) An awesome experience! Together with some free magic tricks we have magic videos and some magic illusions so, sit back and enjoy the show!
---
Free Magic Tricks: Mind Reading Trick



Test your psychic skills with our free online mind reading magic trick and select a card which the computer will be able to guess by reading your mind
---
Free Magic Tricks: Psychic Magic Trick



Psychic Magic Trick: Take our free online psychic magic trick and test whether your computer has psychic powers by choosing a card which your psychic computer then makes disappear
---
---
Free Magic Tricks: Magic Camera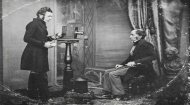 This magic camera is an intriguing online novelty based on late Victorian technology which was only fully usuable when the very first inventors were able to tentatively understand the principles of "heliography" leading to the first permanent photograph of a camera image being "taken" in 1825. Now you can try out the Magic Camera and have your image scanned digitally onto your computer screen. Maybe.
---
Free Magic Tricks: Crystal Ball Magic



Using crystal ball magic, your computer can try and guess a series of random objects you have thought of.
---
---

Not magic tricks as such but these Magic Eye illusions are still worth checking out together with video.
---
Free Magic Tricks: Learn Magic Tricks



Regularly updated videos demonstrating the very best free magic tricks you can learn at home and try out on your family and friends.
---