Eye Optical Illusions
---

Follow the ball carefully with your eyes. How could the laws of physics cease to work in this illusion?
---

Another impossible illusion from the work of MC Escher, this one known as Escher's stairs where, regardless of whether you are going up or going down, you still end up in exactly the same place. Fortunately, however far this guy falls, he'll never hit the bottom ... or the top!
---
---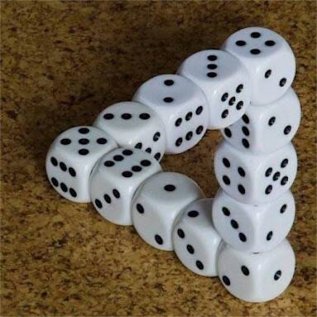 Again, this is physically impossible. Have the laws of physics been altered or are your eyes playing tricks on you?
---

Study the last of our eye optical illusions on this page carefully. Nothing is taken away and yet something changes. Count how many boulders there are, 9 or 10?
---
---

This section of our visual illusions concentrates (excuse the pun) on brain illusions. No tricks, no sleight of hand, just illusions that demonstrate, to some extent, how your brain processes information.
---
---

Over the years there have been many classic examples of optical illusions appearing in art form. Here we present what we consider to be the very best art optical illusions.
---
---