Funny Paramedic Call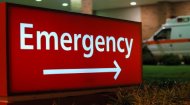 This paramedic call starts off in a typical fashion. The caller is distressed at the medical condition of someone else in the house, and after he's collapsed, the near hysteria is probably what you'd expect. However as this really funny paramedic phone call continues, you get to find out why the person is lying on the floor barely breathing and why there's a strange thudding noise in the background.

We'll give you some clues. A saucepan, a scratch card lottery ticket, and a fit of jealously. Worked it out yet? Probably not, so listen to the tape and prepare to be astounded!
---

This isn't a prank call as such but a very funny 911 call instead with a bit of inappropriateness!
---
---

You don't normally expect a cop to call 911 after eating something he stole whilst on duty! This one did...
---
---