Funny Snake Bite Video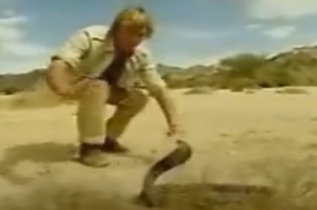 Some people are just asking for it, just like the guy in this funny, snake bite video clip. Well, we say funny, but its probably not much fun being bitten by a cobra, even though this guy appears to deserve it. What's really crazy though, is that after his wound is treated in hospital he goes back for more!

Just for info a King Cobra can grow up to eighteen and a half feet long although most grow to only twelve feet long! A single bite can cause death to a human in fifteen minutes but will rarely attack humans unless provoked like this guy did in this video. Muppet. Except for those kept in captivity they are to be found in southern Africa and Asia.
---

This little monkey gets quite a shock and reels over when he smells something he shouldn't!
---
---

Can you watch this without even thinking "Ahhh, poor kitty!" Judge for yourself, or don't you love cats?!
---
---