Funny Shooting Video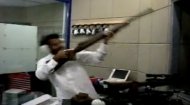 This funny shooting video is classic! The marksman is trying to go practise shooting but isn't quite prepared for the recoil of the gun as .577 Tyrannosaur rifles are very large and powerful! Watch as it recoils then the bullet ricochets and smashes into the glass, shattering it! He then cries out in Arabic "where's the door" as you do. A lucky escape, perhaps, but another reason not to carry guns! The rifle itself uses a massive 14.9mm cartridge that was designed for large game hunting in Africa and, as you can see, has a massive kickback.

After you've watched this funny shooting video clip, check out our other funny videos. We search the internet to find the funniest videos online for your viewing pleasure and entertainment!
---

Discover out new techniques to cross a road in safety the Green Man would be proud of!
---
---

Okay, so he may now be dead, but wouldn't this have been a better way to go? More satisfying as well?
---
---