Read Your Own Palm Online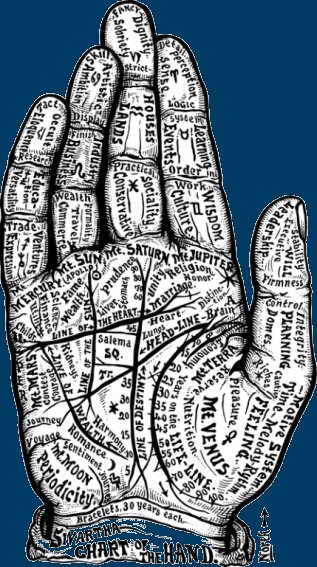 The law recognises the uniqueness of the human fingerprint, so there is every reason to believe that the palm print is just as individual. There is certainly some scientific evidence that the occurrence of abnormal lines on the hands may be related to certain hereditary diseases, such as heart defects or those related to chromosome deficiencies. In a traditional palm reading the so called 'simian' line - in which the head line and the heart line run as one - is held to be an indicator of 'degeneracy'; now a group of doctors has reported that this line often occurs in those whose mother suffered from rubella during pregnancy. We have placed this section on palm reading in our self awareness tools section rather than in our online divination and oracles pages.

Whether or not there is any validity in the suggestion of a direct link between the human metabolism and the lines of the palm, the significance of these lines is even mentioned in the Bible; "Long life is given in her right hand. In her left are riches and honour" (Proverbs 3:16). We used to have a free download to read your own palm butit is no longer compatible with most operating systems so, in the meantime, we present this read your own plam video below.
---

Get your free daily Tarot card reading here together with information about Tarot Cards, one of the most popular fortune telling tools with its Major and Minor Arcana.
---
---

Crystal gazing is a form of skrying in which a medium stares fixedly into a crystal ball. Now you can get your answers online with our magic crystal ball that will answer your 'yes' or 'no' questions!
---
---