Funny Warning Signs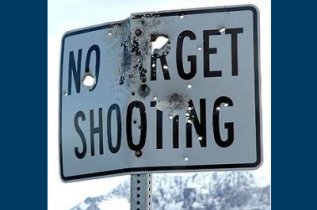 Some people are just asking for it when they put up their funny warning signs, because they simply don't realise how funny they actually are. Take the 'No Target Shooting' sign, what did the person who put this up really expect? Some of other other favourite funny signs include a pub sign that states "Do not drop cigarette ends on the floor as they burn the hands and knees of customers as they leave", "Fasten bra straps and remove dentures very bumpy road", "Toilet, stay in your car". Mmm.

You can browse these funny warning signs by clicking on 'Auto' above for a slideshow or view them individually by using the 'next' button. Hope you find them as funny as we did!?
---

If you enjoy reading funny signs, check out this collection of some really funny ones from Africa, many of which couldn't even have been imagined in the west!
---
---

Watch our free online funny videos for a laugh! Our funny videos clips features some of the funniest videos ever placed online!
---
---