Free Crystal Ball Magic Trick

This crystal ball magic trick will puzzle you at first but, if you can work it out, you can try it out on your friends and family without using a computer. And if you can't work it out, well it really is magic. Honest. And Harry Potter is a real person, and they really are Ron Weasley's kids despite the fact none of them has ginger hair and they all look suspiciously like Draco Malfoy. Anyway we digress. Follow the simple instructions for this online crystal ball magic trick and your computer will work out a country you are thinking of, a fruit and an animal. Computers are that good nowadays.
---
Free Crystal Ball Magic Trick: Psychic Magic



Psychic Magic Trick: Take our free online psychic magic trick and test whether your computer has psychic powers by choosing a card which your psychic computer then makes disappear
---
---
Free Crystal Ball Magic Trick: Ask the Crystal Ball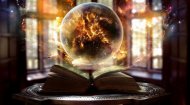 Crystal gazing is a form of skrying in which a medium stares fixedly into a crystal ball. Now you can get your answers online with our magic crystal ball that will answer your 'yes' or 'no' questions!
---
---