Death Date Calculator

Use our free online death date calculator to find out the date of your death, and also how you're going to die. The death date calculator is easy to use, simply tell it your age, sex and some additional lifestyle questions to provide an accurate prediction of when you're going to die, and how. If you still have time, and assuming the Death date calculator hasn't given you really bad news, check out the death date video below for another method of establishing your date of death.

If you'd rather not know, best not use this calculator, but if you want to know how much time you've got left so you can start to plan it wisely, this is a great little tool. We do not recommend anyone under the age of 18 use this death date calculator or those of a sensitive or depressed condition. You have been warned! Ironically, we don't know the date of this death date calculator, only that it's a legacy flash file so can be used while you still have flash installed on your browser.
---
Tarot Cards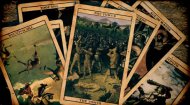 Get your free daily Tarot card reading here together with information about Tarot Cards, one of the most popular fortune telling tools with its Major and Minor Arcana.
---
---
Ask the Crystal Ball



After you've checked out our Death Date Calculator, try out our online crystal ball. You can ask it any question with a 'yes' or 'no' answer to find out what the future holds and what decisions you should make.
---
---